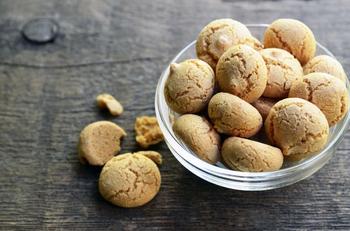 Cookies honey-tahini
What do you need to cook the unique dessert? Right! Just to take some unusual ingredients. Tin Tin restaurant chef Ilya Semin offers to bake sesame paste cookies, called tahini, put honey instead of sugar and replace plain wheat flour with almond. This dessert is quickly prepared, it turns out extremely tasty, healthy and gluten-free. Also, the composition of the dish includes only vegetarian products, which means that it can be prepared during the religious post.
1.

Tahini

— 95g

2.

Flour from blanched almond

— 150g

3.

Sesame (seeds)

— 75g

4.

Honey

— 110g

5.

Vanilla extract

— 1g

6.

Soda

— 2g

7.

Sea salt

— 1g
Stages of cooking
Pour the dry ingredients (almond flour, sea salt, soda) into a separate bowl.

In another bowl, mix tahini with honey, adding vanilla.

Carefully combine these two mixtures.

Roll up small balls and flatten them to make a round form. Sprinkle them with sesame seeds from both sides.

Put in the oven and bake at an average temperature for about 10 minutes.