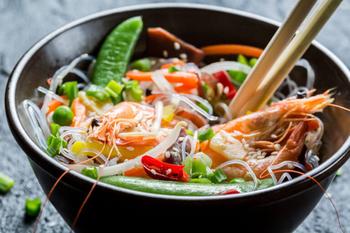 Glass noodles with tuna from leading restaurants
Asian glass noodles are an excellent base for many dishes. They are versatile and can be combined with fish, meat, vegetables and seafood. It does not take much time to prepare them. Transparent noodles, which are called glass noodles, can make the dish interesting and exotic. Chef of theTin Tin Restaurant Ilya Semin offers to cook them with fish and squid, and to add an unusual sauce.
1.

Glass noodles

— 50g

2.

Tuna

— 75g

3.

Oyster sauce

— 15ml

4.

White wine

— 30ml

5.

Soy sauce

— 15ml

6.

Fish sauce

— 10ml

7.

Squid

— 50g

8.

Chinese cabbage

— 30g

9.

Kinza

— 3 sprigs

10.

Mint

— 2 sprigs

11.

Bulgarian pepper

— 30g

12.

Cherry tomatoes

— 30g

13.

Green onion

— 7g

14.

Lime

— 1 slice

15.

Garlic

— 2 cloves

16.

Chili pepper

— 3g

17.

Ginger

— 3g

18.

Sesame

— 5g

19.

Black pepper

— to taste

20.

Salt

— to taste

21.

Sugar

— to taste
Stages of cooking
Prepare garlic-fish oil: it is enough to put crushed cloves of garlic in the oil, fused with canned tuna.

Prepare noodles: remove them from package and pour boiling water on them. They will be ready in 5 minutes.

Fry the chopped squid in fish-garlic oil. It is better to do this on a wok pan.

Fry the bulgarian pepper, cherry tomatoes and Chinese cabbage on garlic-fish oil. Add ginger and chili pepper. Vegetables stack one by one.

Add vegetable oil to the pan, add tuna, squid and pepper to them. Pour white wine and evaporate it.

Add glass noodles. Pour all sauces, salt, pepper and mix them well.

When the frying pan is switched off, add sesame and chopped green onion.

When serving, decorate with a piece of lime, mint leaves and cilantro.