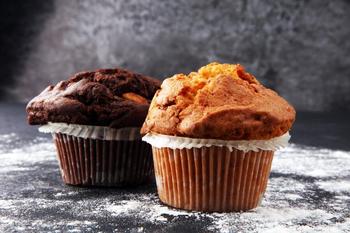 Rhubarb Muffins
Rhubarb stalks are very useful, as you can cook not only fruit compote or jam from them. Chef Ilya Semin offers to bake tender rhubarb muffins with a crispy sugar crust. In order to get maximum benefit and pleasure from this dessert, you should add flavored rhubarb and strawberry jam into them. It's just perfect for a friendly or family tea, as well as for cheering you up and caring for your immunity.
1.

Rhubarb

— 400g

2.

Butter

— 225g

3.

Milk

— 60g

4.

Sugar

— 245g

5.

Wheat flour

— 350g

6.

Baking powder

— 7g

7.

Eggs

— 2pcs

8.

Cream 33% fat

— 150ml

9.

Fresh-frozen strawberries

— 200g

10.

Powdered sugar

— 15g

11.

Vanilla sugar

— 15g
Stages of cooking
Prepare the dough: mix butter (125g) with sugar (100g), add eggs, milk and rhubarb chopped (200g) into small pieces, add flour (250g), baking powder.

Prepare a shaysel: grind the butter (100g) with flour (100g), pre-mixed with sugar (85g).

Put the dough in portions, sprinkle with a strainer. Bake for half an hour at 175 degrees.

Prepare the jam for the filling: mash the thawed strawberries, add sugar (60g), chopped pink pepper, let it boil and hold on the fire for another 5 minutes, put the rhubarb and then boil a little more.

Let the jam and muffins cool. Whip cream with powdered sugar, while adding vanilla sugar. Cut the muffins horizontally, grease them with jam on the place of cut .